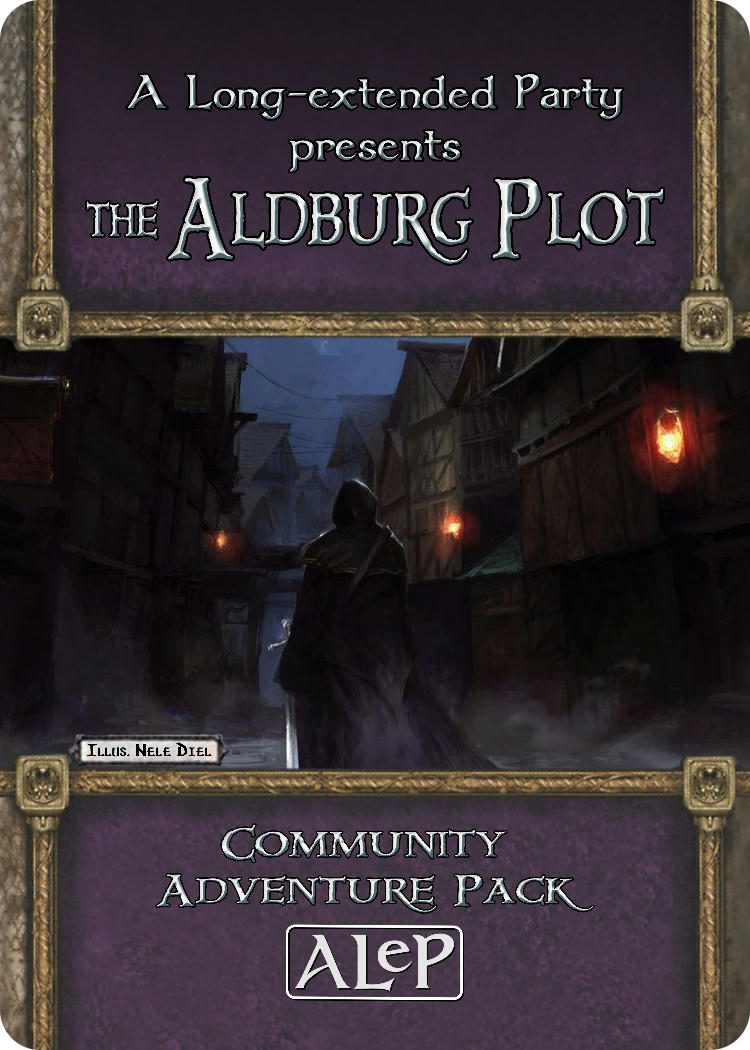 "Do what you are bidden, Ossian"
The soldier grimaced. "My lord, he is one of us. I fought at his side at Amon Hen. He saved my life."
"Remember what we are fighting for, my boy. Go now. For the Gift."
He steeled himself. "For the Gift."
The Aldburg Plot Adventure Pack is now available from A Long-extended Party!
A Long-extended Party is pleased to present The Aldburg Plot, the first adventure pack in Oaths of the Rohirrim, a cycle of free, fan-made expansions for the beloved card game.
After your adventures along the Great West Road and beyond in Children of Eorl, you have arrived in the Rohirric city of Aldburg to take counsel with Éomund and his advisor Ealdwulf. With traitorous Rohirrim lurking within the city, it is only a matter of time before they strike at the young Marshal's seat of power. But who could be their inside man, and what could motivate them to such treachery?
The Aldburg Plot introduces an original new scenario, which begins with a single choice – consult the city watch or investigate a seedy tavern? From there, the path forks into new clues, unique enemies, and deadly decisions.
In addition to a quest, The Aldburg Plot introduces two new heroes and nine player cards (three copies each) to bolster fan-favorite archetypes. Prepare for trouble with the conspirator of Crickhollow, Fatty Bolger or master the wilds with the Mirkwood Falconer, Widfast (and her childhood companion Gavin). These cards and more are designed to open new deckbuilding opportunities and enhance the longevity of the greatest game in Middle-Earth.
The Aldburg Plot is available now as a free print and play expansion, available to download below. Prefer to play digitally? This expansion, and all future ALeP content, is available to play on both DragnCards and Tabletop Simulator. Looking for a more professional, third party print job? Check out our accompanying printing guides below for detailed, easy to follow instructions.
Player Card Spoilers on RingsDB
We are hard at work preparing French, German, Italian, Polish, and Spanish translations of The Aldburg Plot:
| | |
| --- | --- |
| Language | Status |
| English | Available |
| French | Available |
| German | Available |
| Italian | Available |
| Polish | Available |
| Spanish | Available |
If you are enjoying the Oaths of the Rohirrim cycle, there are a couple ways you can help support future content.
A Long-extended Party is a fan-made expansion for The Lord of the Rings: The Card Game and is not endorsed, supported, or affiliated by Fantasy Flight Publishing, Inc. The copyrightable portions of The Lord of the Rings: The Card Game and its expansions are © 2011 – 2013 Fantasy Flight Publishing, Inc. The Lord of the Rings, and the characters, items, events and places therein are trademarks or registered trademarks of The Saul Zaentz Company d/b/a Middle-earth Enterprises and are used, under license, by Fantasy Flight Games. Living Card Game, LCG, LCG logo and Fantasy Flight Supply are trademarks and/or registered trademarks of Fantasy Flight Publishing, Inc. All Rights Reserved to their respective owners.